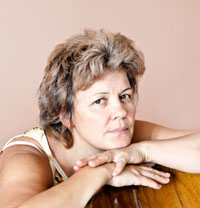 Really, no kidding. Women's urinary incontinence can and does regularly occur when mature women reach menopause, but it doesn't have to. Despite the popular belief that urinary incontinence is "natural" or "normal" when a woman reaches menopause, it simply isn't true for all women … especially women who have been exercising their pelvic floor muscles.
Why Does Urinary Incontinence Occur with Menopause?
Like almost everything associated with menopause, urinary incontinence occurs because of the hormonal shifts in a woman's body during this phase of life. Primarily, levels of the female hormone estrogen drop significantly during and after the process of menopause.
This is significant because estrogen is important for keeping the bladder and urethra healthy. Also, lower levels of estrogen in the body contribute to thinning of the urethral, vaginal, and bladder lining. With a thinner lining, the pelvic floor muscles responsible for keeping urine from leaking tend to weaken, which can lead to urinary incontinence.
What Kinds of Urinary Incontinence are Common Post-Menopause?
Women going through menopause or who are post-menopausal most commonly experience either stress urinary incontinence (SUI) or urge urinary incontinence (UUI).
With SUI, urine leaks when you put any pressure on your abdominal cavity, such as when you sneeze, laugh, or step off a curb. This happens because the weakened pelvic floor muscles that are supposed to keep urine in the bladder can't withstand the sudden increase in abdominal pressure, and allow urine to leak.
With UUI, you experience a sudden and urgent need to urinate, often before you have time to reach the bathroom. This occurs because the bladder muscles squeeze at the wrong time. Many women with UUI feel the urge to go when they hear the sound of running water.
What Should Menopausal Women Do?
If you are experiencing urinary incontinence during or after the process of menopause, seek help from your doctor, whether it be your regular family doctor, your gynecologist, or your urologist.
One of the common conservative medications prescribed for your situation is transvaginal hormones, specifically estrogen. Estrogen, has been shown to increase blood flow, improve nerve function, and rejuvenate the tissues in the urethra and vagina.
Transvaginal hormones have been shown to prevent urinary tract infections in post-menopausal women. These hormones are available in the form of creams, tablets, or a time-release intravaginal ring. Note that transvaginal hormones are different than oral hormone replacement, which may actually worsen incontinence symptoms for some women.
Ready to Get Help?
Here are some resources to help you get help you want and need for your urinary incontinence:
How to Find the Right Doctor for You
Discreet Online Resources
Learn More about Urge Urinary Incontinence
Learn More about Stress Urinary Incontinence
If you enjoyed this post, we invite you to check out our book, leave a comment, contact us, download our free ebook, or interact with us on Twitter and Facebook.
Image courtesy of graur codrin / FreeDigitalPhotos.net