A Woman's Guide to Pelvic Health
Expert Advice for Women of All Ages
Now available online from
Amazon and Barnes and Noble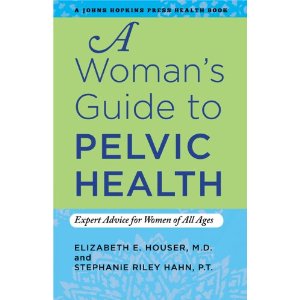 What health condition affects more than 25% of American women, and is so embarrassing that many of these women won't discuss it with their doctors for almost 7 years, if at all? What can cause depression, emotional eating, financial stress, and fights in the bedroom?
Women's poor pelvic floor health.
Problems caused by this condition can include all types of urinary incontinence and decreased sexual satisfaction. Did you know that urinary incontinence is becoming one of the most prevalent conditions family physicians encounter (more than diabetes or asthma) according to the American Association of Family Physicians?
At the same time recent studies indicate that both family physicians and specialists (such as urologists) in the U.S. and Europe feel they do not have enough time to spend educating their patients on conditions like urinary incontinence or other pelvic floor disorders.
Yet patients report that the time a physician spends on health education and discussion of treatment options has a significant bearing on patient satisfaction.
Introducing A Woman's Guide to Pelvic Health
How can a woman with pelvic health issues make the most of the limited time available during each appointment? Consider the book A Woman's Guide to Pelvic Health – Expert Advice for Women of All Ages. Written by  Elizabeth E. Houser, M.D., a female urologist, and Stephanie Riley Hahn, a women's physical therapist, this practical book is something any affected woman can turn to as an educational resource.
This women's guide covers pelvic conditions ranging from all types of urine leakage to pelvic organ prolapse and decreased sexual sensation. This guide answers questions about pelvic floor health that affected women may have been too embarrassed to ask. Written in a compassionate yet medically-accurate way, this book educates women about pelvic health by:
Reassuring women that pelvic health conditions can be relieved or cured
Providing a Pelvic Health IQ quiz to help women discover the conditions most likely affecting their pelvic health
Describing multiple medical solutions for each condition, ranging from conservative lifestyle changes to simple surgeries (including the pros and cons plus success rates for each approach)
Guiding them in how converse with physicians clearly about their conditions
Offering a proven and effective step-by-step pelvic muscle exercise program (based on exercise science)—even if they have not had success with Kegels and similar exercises in the past
This practical women's guide on pelvic health is easy to read and highly educational, and women with pelvic health issues will want to share it with the other women in their lives.  This book is currently available online and in stores near you.