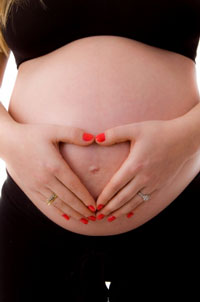 Did you know that women who have given birth are 2.5 times more likely to have urinary incontinence than women who have not?
It's sad, but true. During pregnancy, a woman's body undergoes many physical and hormonal changes. These changes can result in urinary urgency, urge urinary incontinence, and incomplete emptying of the bladder during pregnancy.
While some women who experience urinary incontinence during pregnancy do not have urine leakage after delivery, many do. The opposite is also true: women who were continent during their pregnancy may discover that they leak urine post-partum.
Some Statistics about Women's Urinary Incontinence Post-Partum
What's a mom-to-be or a new mom to think? Well, here are some statistics which may offer you some guidance on what to expect (according to Carolyn Sampselle as reported in the American Journal of Nursing):
–    Vaginal delivery is linked to a high rate of urinary incontinence in the period directly after birth
–    21% of women experience urinary incontinence after their first vaginal delivery with spontaneous birth
–    36% of women experience urinary incontinence after their first vaginal delivery with forceps delivery
Now zoom into the future about five years and you get this statistic: women who experience urinary incontinence for a period of time post-partum are three times as likely to have urinary incontinence five years later.
In addition, in a study by Brown and Lumley (2000), urinary incontinence was one of the three major health factors associated with poor emotional well-being post-partum. The other two factors were tiredness and a higher than usual number of minor illnesses. Ultimately, if left untreated, these factors can lead to long-term depression.
So What is a Post-Partum Mom to Do?
If you suffered from urinary incontinence during your pregnancy, or post-partum, then you should take definite and immediate action. Make an appointment and speak honestly with your doctor about your condition. Find out what conservative measures you can take to improve your symptoms.
Then take charge and be your own best health advocate! Browse through the various posts on this blog to learn how to find the best doctor, talk to your doctor, prepare for your appointment, and more. Or, download our free ebook, "What's Up Down There" and do a quick self-assessment of your situation "down there." The ebook also gives you step-by-step instructions on how to do a correct pelvic floor contraction, or Kegel, which helps alleviate many symptoms of urinary incontinence.
If you enjoyed this post, we invite you to check out our book, leave a comment, contact us, download our free ebook, or interact with us on Twitter and Facebook.
Image courtesy of imagerymajestic / FreeDigitalPhotos.net