Are You Like Sonia?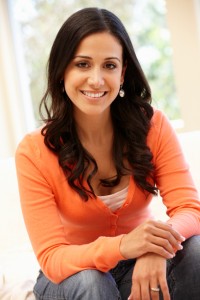 Over dinner during a girls' night out, Sonia was shocked and amazed to discover that three of her girlfriends were experiencing problems "down there" after having babies. One friend had bladder leakage problems, another had decreased sexual sensation, and the third had both problems."Goodness," she thought to herself, "if this is what's going to happen when I have a baby I'd better get clued-in on how to prevent these problems!" Sonia, age 31, was so far single and childless, but planned to get married and have babies later.
The conversation turned to Kegel exercises, which tone the pelvic floor muscles and, amid giggles, the four girlfriends practiced Kegels right there in the restaurant. Sonia found that she couldn't do a proper Kegel, and that she kept tightening her buns and pushing outward on her stomach muscles instead of using her pelvic floor muscles. After hearing her girlfriends' horror stories and realizing that her pelvic floor was quite weak, Sonia decided she had better learn how to do Kegels correctly—and fast!
What is Pelvic Floor Weakness?
How do you know if your pelvic floor is weak? If you're like Sonia and don't have symptoms like urinary incontinence or decreased sexual response, you may not know. But you should find out. Whether you know it or not your pelvic floor (PF) muscles perform three important functions: prevent urine and fecal leakage, support the pelvic organs, and provide greater sexual satisfaction.The first and most obvious function—keeping you dry until you want to urinate—can be the difference between sailing through your day and having to make inconvenient pit stops all day long. Women with PF weakness commonly suffer from incontinence.
Next, your PF muscles form a "hammock" that supports your pelvic organs to help maintain the proper angle of each one. Women with very weak PF muscles can suffer from
pelvic organ prolapse (POP)
.
Finally, there's sex. The tone of your PFM can play a definite role in your level of sexual satisfaction—the better the tone, the better the sex. Toned PF muscles can help you increase your sexual response, especially after you've had babies or as you age.
You Know You Have Pelvic Floor Weakness If:
You experience any of these symptoms:
No symptoms (you could still have pelvic floor weakness)
Difficulty controlling flatulence and stool
How the story ends
Sonia was thrilled to discover that Kegels and other exercises would tone her pelvic floor so that she would prevent problems like urinary incontinence or pelvic organ prolapse before they had a chance to occur. "Use it or lose it" had been her motto all her life—Sonia just didn't know until now that the same adage applied to her parts down south. Her new motto? "Prevention is better than cure!"