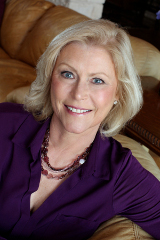 Elizabeth E. Houser, M.D., a board-certified urologist in private practice for many years, recently left her clinical practice to become a consultant in the field of women's pelvic health. As a female urologist and specialist in women's pelvic health, she is in a unique position to extend compassionate medical guidance to women with pelvic health issues.
Dr. Houser co-authored A Woman's Guide to Pelvic Health: Expert Advice for Women of All Ages specifically to educate and encourage this population of women to get help for their pelvic health issues, since most of these women never seek help, and many wait almost seven years. Her special focus is on helping women with urinary incontinence, overactive bladder, pelvic organ prolapse, and sexual dysfunction.
Dr. Houser is so passionate about promoting female pelvic health that she earned her certification as a Pilates instructor, enabling her to use these technique in her pelvic floor fitness and rehabilitation consulting work. She earned her medical degree with honors from the University of Texas Health Science Center at San Antonio Medical School. She is also regularly featured in international news segments and magazines, as well as being a contributing author to medical handbooks. Her latest work includes:
Dr. Houser lives in Austin, TX with her husband and dogs. Her hobbies include photography, cooking, organic gardening, Pilates, and cycling.